Each year 1 in 3 pets is injured or becomes ill* and needs urgent veterinary treatment. Insurance can help you cover the cost of these unexpected bills leaving you free to concentrate on helping an important member of your family recover.
Ark Vets recommend having your pet insured. We are a Vetsure-accredited practice and, as such, promote the Vetsure range of pet insurance products. As a recognised practice we benefit from active communication channels with the Vetsure team. This means that we can obtain pre-authorisation prior to starting treatment and can help make the claim process as easy as possible.
We promote Vetsure Pet Insurance® because…
Vetsure make it simple: We are part of the trusted Vetsure network. This means that Vetsure are happy for us to settle the bill directly with them when you make an eligible claim. After treatment you simply pay us the policy excess.
Vetsure for tailored cover: Pick and choose from a range of benefits and benefit levels to suit your budget. To further adjust your monthly premium, you can choose from a range of excess levels (£69, £109 or £149).
Vetsure cover for life: If your pet develops an ongoing condition like arthritis or diabetes, the vet treatment benefits offered will recharge every year for each condition**. Vetsure also only charge the excess once per unrelated condition – many insurers charge the excess every year – which can soon make costs add up.
We can now also offer 5 WEEKS FREE COVER WITH VETSURE PET INSURANCE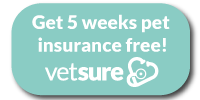 As a fully accredited Vetsure practice we can exclusively offer our clients 5 weeks cover free of charge. Simply choose whichever level of cover you are interested in taking out and get the first 5 weeks free.***
In order to benefit from this offer, you can follow the link above or pop into our practice and we will arrange for Vetsure to contact you and put your cover in place today!
For more information about Vetsure Pet Insurance – or to obtain a quote – visit the Vetsure website or call 0800 050 2022.
Alternatively, ask a staff member to arrange a call from the Vetsure team at your convenience!
* source: Datamonitor – UK Pet Insurance 2008.
** provided your premiums are kept up to date and your policy remains in place.
*** terms and conditions apply – visit vetsure.com for details on cover available.